Forums » GOautodial ISO installer »
Manual IP address configuration
Added by Demian Biscocho over 4 years ago
Hey guys,
You need to configure your final IP address (whether public or private) on the ISO installation process. This automates everything including configuring the Kamailio, RTPEngine, GOautodial web app and etc. There is no need to edit /var/www/html/php/goCRMAPISettings.php if the IP address was configured/setup on the ISO installation process.
If manually updating the IP address, the following components and their configuration files need to be updated too:
Kamailio:


/etc/kamailio/kamailio.cfg

Around line 136:


#!substdef "!MY_IP_ADDR!10.10.100.164!g" 

Around line 163:


/* uncomment and configure the following line if you want Kamailio to
   bind on a specific interface/port/proto (default bind on all available) */
listen=udp:127.0.0.1:5060
listen=udp:10.10.100.164:5060

RTPEngine

/etc/rtpengine/rtpengine.conf

Around line 8:


### a single interface:
interface = 10.10.100.164

GOautodial web application

/var/www/html/php/goCRMAPISettings.php

Change 10.10.100.164 to your IP address and then restart Kamailio and RTPEngine.

systemctl restart ngcp-rtpengine
systemctl restart kamailio

Check their statuses:

systemctl status ngcp-rtpengine
systemctl status kamailio

Set the IP in Administration>GOWebRTC Dialer Settings and click SAVE button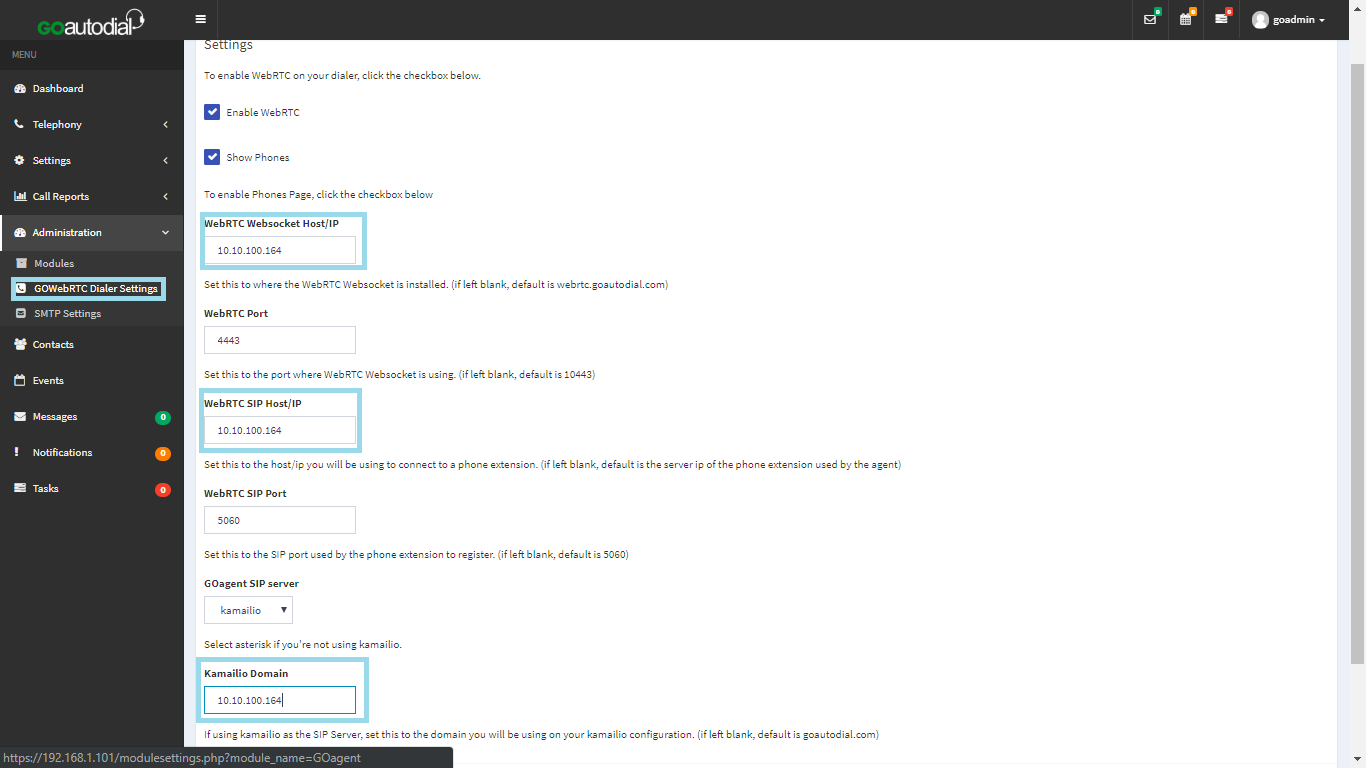 We're still building the tools to automate all of these. Preferable via the GOautodial web app so everthing is database driven.
Replies (17)
(1-17/17)
Go to top