Feature #573
---
Description
Here are the minor modifications to the carrier wizard
Step 1
Carrier type:
1. GoAutoDial-JustGoVoIP
2. Manual
Step 2
If GoAutoDial-JustGoVoIP
1. Mark required fields with "*". Move "Terms and Conditions" lower. See screenshot below.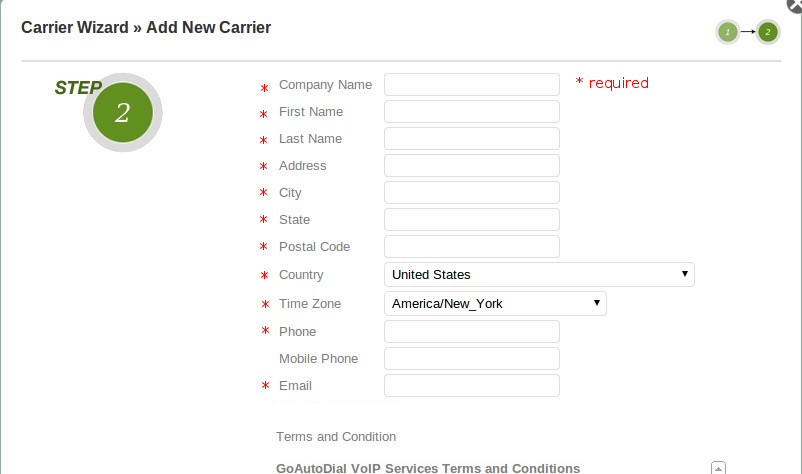 2. There should be a loading sign when users hit submit. There is no feedback when user clicks submit. Users don't know what's happening and clicks the submit link multiple times resulting in multiple carrier entries and email.
3. If registration is successful, there should be a pop-up message saying "Account creation successful. Please check your email for instructions on how to login to our VoIP web portal".
Step 3
1. There should be a dropdown menu for the carrier to be used/enabled in available active campaigns. This means auto-creating a dial-prefix for the GoAutoDial-JustGoVoIP carrier entries and having the prefix used in chosen campaign/s.
Note:
1. There should only be one active GoAutoDial-JustGoVoIP carrier entry. There should be a message saying "Multiple GoAutoDial carrier entries are not allowed".
2. Duplicate/multiple checks via email address
History
Go to top